Guironnet named Center for Advanced Study Fellow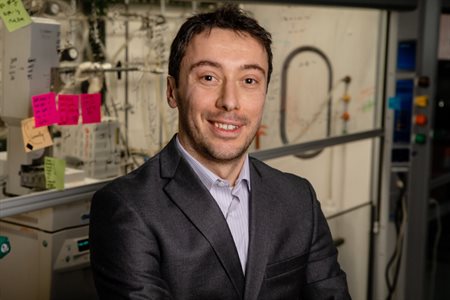 The University of Illinois Urbana-Champaign's Center for Advanced Study announced that Damien Guironnet, a chemical and biomolecular engineering professor, is among eleven newly elected fellows for 2021-2022. The CAS identifies the top scholars on campus and provides one semester of release-time from teaching duties for fellows to concentrate on creative work.
Untenured faculty from all departments are eligible for this program; appointments are made based on a rigorous nomination and election process. During their term, CAS Fellows can pursue self-initiated programs of scholarly research or professional activities. They are also invited to deliver a CAS presentation and participate in a roundtable discussion of research interests.
Guironnet joined the department in 2014. His group develops new catalysts and processes for the synthesis of polymers with unprecedented control. He was elected based on his proposal, "Automated Polymer Synthesis to Accelerate Discovery."
During his fellowship year, Guironnet's group will further advance the design-to-synthesis strategy protocols that they have pioneered. This strategy enables the conversion of a hand drawing of a polymer's shape or molecular weight distribution into an actual sample.
"The precision and tunability of our methodology will allow us to use, for the first time, molecular shape to drive self-assembly," Guironnet said. "Our most ambitious goal is to use the shape of the macromolecules to create supramolecular assemblies that can mimic the unique catalytic activity achieved by enzymes."
"It is a privilege to join the ranks of so many distinguished scholars and also to have the opportunity to pursue research that will lay the foundation to open a new era in polymer synthesis," he added.
Each year's CAS Fellows become permanent members of the Center, which comprises the highest scholarly achievement across campus. The CAS hosts public lectures, long-term visits by world-renowned scholars, interdisciplinary symposia and a variety of educational programs, and other special events for its members.